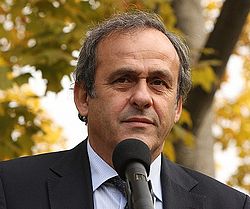 Michel Platini is a name that will mean different things to different people. For some of a certain vintage like me, we will remember him as a French maestro and one of the world's best-ever players. For those of a more current generation, Platini will be remembered as the head of UEFA who sold his football soul in the name of greed and corruption.
In fact, for many people, Platini will probably be remembered as both. Up until becoming the chief of UEFA in 2007, Platini's career on and off the pitch was one of huge success and much respect. By 2015 his reputation was in tatters when he was banned from football administration for life by FIFA.
Platini's Days as a Football Star
When charting Platini's rise and fall, the best place to start is during his playing days. While his name often gets forgotten in discussions of all-time greats, make no mistake, he truly was. Platini was a sublime player, someone who possessed arguably the best passing ability the sport has ever seen. Versatile and boasting enviable ball control, Platini was quick and intelligent on the ball, making him a potent attacking threat.
Over a career that seen him play for Nancy and St. Etienne in France and Juventus in Italy, the Frenchman won nearly everything, including a French league and cup, Serie A, Coppa Italia, and the European Cup. With France he won the 1984 European Championship, but the World Cup always eluded him, becoming the only major trophy he never won.
By time Platini called time on his career he had won the Balon d'Or three times and would be named 6th in FIFA's Player of the Century in 2000. Upon retirement, a career in football politics beckoned, including helping to organize the 1998 World Cup, which saw France win the trophy for the first time, and on its own soil.
Becoming UEFA President
In 2007, Platini took over UEFA as the only former player ever to be named UEFA president. Many believed having a football man in charge would help the organization handle the game more efficiently. Unfortunately, that never happened and Platini was a largely unpopular administrator who played a key role in the creation of Financial Fair Play (FF), love it or hate it.
Corruption and Ban

In 2015 things got worse as Platini's bid to succeed Sepp Blatter as the president of FIFA ended in disaster. Platini was involved in an ongoing corruption investigation that permeated through FIFA and UEFA, whereby Blatter (FIFA) was accused of making a "disloyal payment" to Platini. Both Blatter and Platini were found guilty of ethics violations and banned from football administration for life.
Perhaps it's harsh to call Michel Platini the classic football hero to zero story, but his career has certainly been a contrast.