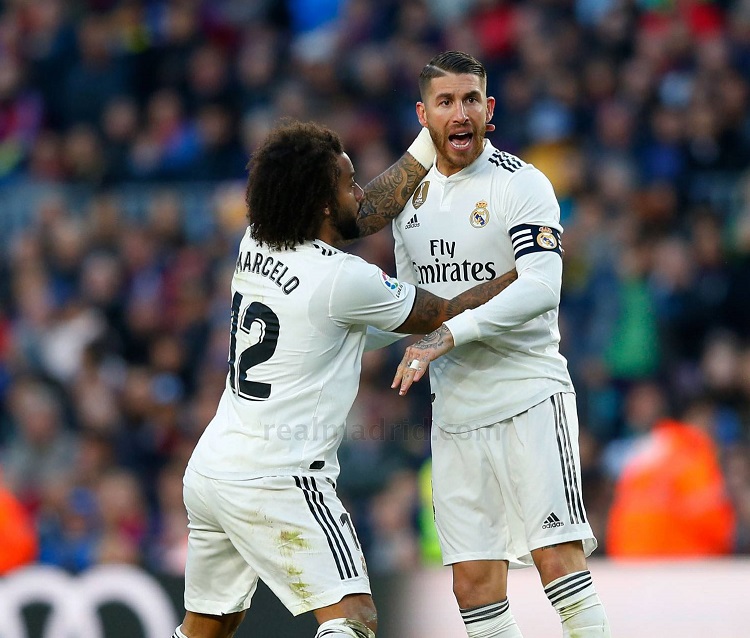 Real Madrid has won the last three Champions League titles and four of the last five. However, what should be a celebratory 2018/2019 season has turned into a nightmare. The champions of Europe have looked like a poor team, will not win La Liga and have already crashed out of the Champions League.
Many people attribute Real Madrid's monumental collapse to the departure of Cristiano Ronaldo for Juventus last summer. Is it that simple or are there other factors to consider when assessing Madrid's 2018/2019 campaign?
Plenty has happened at the Santiago Bernabeu since the club was crowned champions of Europe for the 13th time last May. We'll touch on all the pieces of the jigsaw, of which Ronaldo is a big part, but the Portuguese maestro is not the full story. Still, it's best to start with the Ronaldo factor.
Cristiano Ronaldo
For some reason, Real Madrid president Florentino Perez decided last summer was the time to sell Cristiano Ronaldo. There were a few reasons why this decision was taken, so let's take a look:
Ronaldo was 33-years old, a past-your-peak age for most footballers
Juventus were willing to pay 100 million euros for the 33-year-old Ronaldo
Ronaldo himself had threatened to leave many times and was known to be angry Madrid did not back him in his tax case with Spanish authorities
It was Ronaldo's decision
To be honest, some of those reasons are justified. Madrid made money on Ronaldo as they only paid Manchester United 94 million euros in 2009, while there was no obligation for the club to cover Ronaldo's legal costs. It is also important to note the player has expressed he wanted to join Juventus for a new challenge.
However, the belief that Ronaldo was past his peak has blown up in Madrid's face, simply because we are not talking about the peak of an ordinary player. Yes, Ronaldo is not as good as he was, but he remains one of the best players in the world and among the most prolific goal scorers. Even at 33-years-old, he guarantees between 30 and 40 goals each season.
More remarkable is the fact Perez believed Ronaldo did not need to be replaced. No direct replacement was purchased as the president obviously thought the Real Madrid squad was good enough to compete. What has happened since has allowed the football world to finally realize how much Ronaldo has carried this group of players, particularly in terms of attack.
In 26 Serie A games for Juventus this season, Ronaldo has scored 19 goals and assisted 8. If he was still in Madrid and replicated those numbers, he would have scored 38% of the club's goals in La Liga this season and been involved in close to 50%. In fact, only one Real Madrid player has scored double figures this season, Karim Benzema with 13 goals.
The Squad
As mentioned, Ronaldo's departure has also had a profound impact on Real Madrid's squad. With the striker in the team, the squad looked balanced and could control games. Since Ronaldo left, the team lacks the danger man in attack who commands the attention of the defenders in uncomfortable areas of the pitch. The result has seen the midfield trio of Luka Modric, Toni Kroos, and Casemiro struggle to transition the ball into attack.
An aging squad has not helped the situation. Madrid's best defender remains Sergio Ramos, but he is now 32-years-old, while the club's best midfielder, Luka Modric, is now 33. Benzema, who has never looked like a focal point in attack is now tasked with that role and is himself 31-years-old.
Then there are players who have regressed for various reasons. Isco has been frozen out and not had game time, while Asensio has looked short on confidence during the season. And of course, Gareth Bale has become something of a figure of hate for simply not delivering what most fans expected of him when he joined the club as the world's most expensive player in 2013.
With Cristiano Ronaldo in the team, these cracks may have been papered over for another season, allowing Perez to work on bringing in new players for the 2019/2020 campaign. Interestingly, a transfer market blitz is still likely to happen, but now under a shadow of poor performances.
Missing the Manager
Ronaldo was not the only major influence to leave last summer. Zinedine Zidane also stepped down as manager of Real Madrid, leaving a huge gap at the club. The former Madrid and France player was hugely important to Madrid's recent success, guiding them to three consecutive Champions League's and a La Liga title.
While not showing tactical mastery on the pitch, Zidane has proved adept at organizing a squad and keeping Madrid's tricky dressing room happy. His departure alongside Ronaldo removed the two most important on-field personalities from the club. After spending this season hiring and firing Julen Lopetegui and then ex-player Santiago Solari, Perez reasoned with Zidane and the former World Player of the Year returned to the club this month.
Zidane arrives back at the Bernabeu too late to salvage this season, but with him in charge and a likely explosive summer of transfer activity, perhaps Los Blancos can now move on from Ronaldo.